Designed by
: Ar. Pervez Iqbal [Pervez Iqbal & Associates]
Status
: Completed
Date of Commencement
: 2007
Date of Completion
: 2009
Developers
: Sitara Group of Companies
Contractors
: N/A
Marketed by
: N/A
Building Style
: Modern Archtiecture
Building Type
: Commercial
Building Usage
: Shops + Offices
Height
: +50'-0"
Floors Above Ground
: 5
Floors Under Ground
: 2
Shopping Floors
: 2
Office Floors
: 4
Parking Floors
: 1
Location
: Sitara Mall, Adjacent to Souk Al Kuwait, Near D-Ground, Susan Road, Peoples Colony, Faisalabad
Renders
: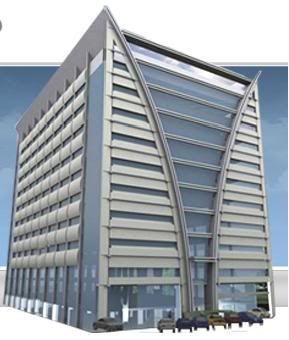 Description
:
Future of Faisalabad city "Sitara Mall"
Sitara shopping Mall is a model of today's shopping concept. It consists of large branded stores having its principal entrance on the 200 feet wide main dual carriage way road between famous D-Ground Shopping Center and Satiana Road commercial area, providing ample front parking space. This road has dual lane roads on each side with large parking space, lined with PCC pavers that will provide uninterrupted flow of traffic as a green belt is provided between fast moving traffic and parked cars. The Local Government has already launched this infrastructural project. The Mall is electronically controlled and monitored for safety reasons and for providing comfort to the customers. Sitara Mall has parking and shopping facility completely integrated and provides safe and decent movement to every customer from parking to shopping and vice versa. Sitara Mall is enclosed in the form of a huge court and lighted by skylight solely by artificial means. This court has greater lighting intensity, greater height and spectacular features such as:
fountains, picturesque landscaping and monumental sculptures. The four-level shopping Mall ensures convenient walking distances and efficient flow of people and goods. It also helps to systemize the shopping pattern with respect to the trade. Special care has been taken to achieve customer convenience and customer appeal. It has been achieved by providing convenient accessibility from parking area by means of fast moving lifts, escalators, cargo lifts and staircases. There is no dead-end on any level without a department store as its terminus and visual interconnection of levels through courts, permitting maximum visibility of shops and customers of one level from the other ones.
Impact of Architecture on Human Life
"I know that architecture is life; or at least it is life itself taking form and therefore it is the truest record of life as it was lived in the world yesterday, as it is lived today or ever will be lived." - Frank Lloyd Wright.
"Space and light and order. Those are the things that men need just as much as they need bread or a place to sleep." - Le Corbusier
"Architecture is that great living creative spirit which from generation to generation, from age to age, proceeds, persists, creates, according to the nature of man, and his circumstances as they change. That is really architecture" - Frank Lloyd Wright.
Sitara mall interior is enriched with:
--------------------------------------------------------------------------------
Landscaping
Electronic Directory of Shops to facilitate in finding specific store, public telephones & internet facilities at appropriate locations.
Sitting places for groups or individuals for resting along with coffee stands/ice cream parlors, creating lively environment.
Beautifully designed fountains, with all built-in safety precautions.
Kiosks of various sizes and shops of approx: 100 Sft. are provided in the courts to cater for customers' needs of a variety of utility articles and gift items.
Lockers are also provided for storing belongings while continuing to shop.
Sculpture and other Art forms are major design features including designed spaces for advertisement.
SITARA MALL will also manage interesting features occasionally to catch public interest such as bird cages, kiddy mazes, fashion mirrors etc.
Trash and ash receptacles, a mandatory aid in preventing litter.
ITARA MALL is equipped with CCTV, clocks, continuous music, fashion platform, exhibit areas etc.
SITARA MALL lighting is low-keyed and incandescent which will lend exotic beauty to dark and monotonous areas, and will, except in courts, allow the store fronts to be main attractions.
Natural light is used in moderation to give variety of effects and save power costs.
Natural light is controlled in order to avoid dilution of the impact of the store font along the Mall. As Sitara Mall will remain open till late afternoon and evening, adequate artificial illumination has been provided.
Great emphasis has been laid on selection of material to be used in construction of Sitara Mall.
It has been ensured that the building & facilities withstand vandalism, and require minimum maintenance. For example, floors in the corridors in public areas are of Granite to resist maximum aberration threat created by the movement of people and goods.
Two Parking Level
Keeping in view the ease and security, two parking levels, each reserved for the shops/offices/apts and customers respectively with separate lifts leading directly to the respective floors from parking area. Separate Cargo Lift.
Four Shopping Floors
Shop Fronts and sign
Fully glazed shop front gives maximum visibility to the shopper.
Except for certain limitations on use of material and, more particularly, on store signs, the shopkeeper is encouraged to use as much imagination and variety in his store frontage as possible to give glamour, interest, and appeal not only to his own store but to the Mall as a whole.
Appealing to the population of Faisalabad as well as regional and inter-nation visitors, this vibrant destination offers a complete experience second to none.
Over 150 shops and services with a mix of top international and local brands.
Over 100 Car Parking spaces.
Spacious internal Drop and Pick up Lane to facilitate the trolley movement from the shopping area to the vehicles. Unique, beautifully styled Snack Bars within the shopping area, offering variety of tastes. Sitara Mall consisting of modern, state-of-the-art office facilities, which can cater to the demand and requirement of any leading edge corporation.
It gives the opportunity in creating an unparalleled level of prestige for any organization.
Sitara Mall harmoniously blends retail, leisure, hospitality, entertainment, office and residential offerings like never before. Its all one can imagine in one place.
Sitara Mall combines a complete life style experience for the cosmopolitan taste of today's discerning visitors.
Recreational Area
Recreational floor
Catering to the needs of property tenants and their valued customers, different food courts on the third floor will provide some of the finest quality cuisines.
FACILITIES
Food Courts, Play Land, Swimming Pool, Gym, Sauna, Changing / Locker Rooms, etc.
GYM
With state-of-the art gymnastic equipment and professional trainers, this mall provides you with a complete health and fitness program. Facilities of sauna bath and an indoor swimming pool will further ensure relaxation for those seeking an escape from hectic schedules.
Playland
Sitara Mall plans to incorporate the latest children Games and Joy Land, expressly for kids to have fun and frolic. An arrangement for security and child care services besides entertainment will ensure peace of mind for parents while they shop.
Auditorium
A spacious hall with approximately 150 persons' seating capacity, well designed & attuned to modern concepts. This auditorium can be utilized for the purpose of seminars, conferences, etc
Roof Top
To get away from the hustle and bustle of busy life and to get a feel of fresh air, you can avail the opportunity offered by semi covered roof top.
Salient Features
Ideal location
Business centers
Three high-speed elevators proceeding from basement to the top floor with exclusive six lifts for offices, residences, shopping areas and a separate lift for cargo.
Escalators connecting all shopping floors and food court.
Specious shop size in excess of 10' x 20', customized to meet the users requirements.
Billing according to the usage of electricity and air conditioning.
Availabilty of Public toilets and amenities.
Centralized digital public address system and in-house music system.
Beautifully designed prayer area.
Central fire alarm system with the latest fire fighting equipment and smoke detectors.
Dual power source with backup generators around the clock.
Security guards and remote monitoring CCTV.
Seperate resting / dinning area for drivers and other helping staff
Site Plan
: N/A
Google Image
:
Floor Plan
: N/A
Model
: N/A
Website
: N/A
Edited by Tekno Arkitect, 07 May 2012 - 03:34 PM.
Info Updated!